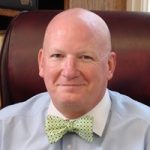 By MHC President/ CEO Bruce Stanley
Babies are a cause for joy no matter when they're born; but in my experience as a pastor, the December babies always seem to generate extra excitement. I think that's because the Nativity play is coming, and everyone wants to see a live infant wrapped in swaddling clothes, cradled by his mother, and placed in a manger on Christmas Eve. There's something about a baby sleeping sweetly (or not) that so powerfully expresses God's gift to us in becoming human, in becoming vulnerable.
Brianna could have been one such December baby, but like many we serve at Methodist Home for Children, she wasn't born to great fanfare or celebration. If there was excitement at her birth it was surely short-lived as she was whisked from her mother's arms and airlifted to Duke Children's Hospital. Doctors at the time didn't know why she became critically ill, so suddenly that she nearly died, but as they worked to save her life, her parents disappeared. A day later, they relinquished their rights to their newborn daughter.
With that decision, Brianna was alone. Her parents were gone.
Brianna spent the first month of her life in the hospital, diagnosed with a rare metabolic disorder — a condition so rare that only 53 cases are known to exist in the world. But there is more to her story: When her birth parents walked away, Methodist Home for Children did the opposite. When she was alone, our staff and foster parents drove miles to the hospital to hold her and whisper words of encouragement. When a family got our call to help, they looked at this child with all of her medical needs and they said yes. Brianna was adopted in June by the Slosky family: parents, Nicole and Nick, and brother, Caleb.
Click here to read about Brianna's adoptive family.
The road this year has not been easy for the Slosky family. Brianna's medications and feedings still have to be precisely timed; she has been hospitalized multiple times and surgery was required to implant a G-tube for nutrition. But as she approaches her second Christmas season, she is showing her personality as a strong-willed daddy's girl and a child who lives with joy.
I hope Brianna's story will inspire you to make a holiday gift so that other children may find a family's love through the services of Methodist Home for Children. May God bless you and your family throughout Christmas and all seasons of the year.