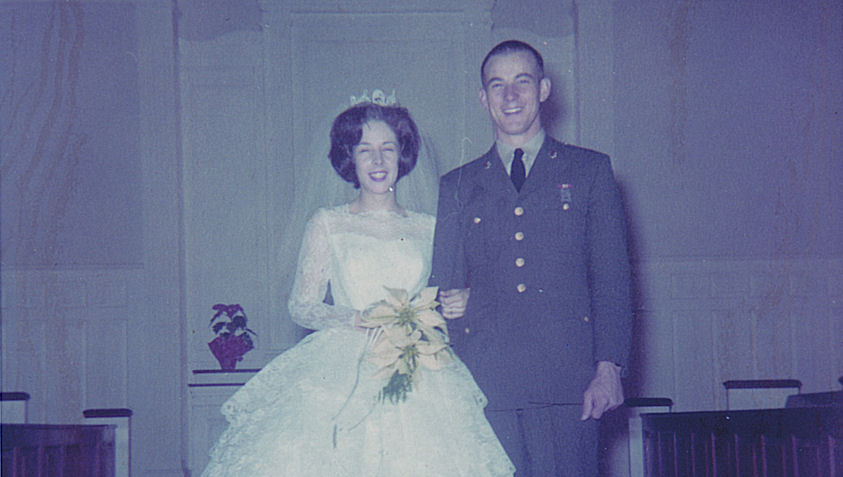 Published in Fall 2014 | Joe Pearce swears that when he lived at Methodist Orphanage/Methodist Home for Children, he raked a million leaves. "And I mean a million," he repeats firmly.
His family lived in rural Wake County near Zebulon, and Joe came to the orphanage in 1957 with two younger brothers. His yard chores spanned almost all of his eight years at MO/MHC, though Joe discovered the secret to the system before he left in 1965.
"After classes at Broughton High School, I would race back to campus and be the first one to find the grounds superintendent, Mr. McCloud. Being first in line meant I got to pick the best job—so no more raking leaves!"
The yard work produced an important added benefit for Joe—it brought him to the attention of a young lady named Dorothy Reel, who had come to the orphanage from Craven County in 1959.
"My fondest memory of Joe from those days is him riding on a stand-up mower near the front of the Vann Building," Dorothy says.
Joe recalls that Dorothy was not interested in him for the longest time. He took her to the senior prom, but their romance didn't really take off until after graduation.
Joe worked in a local restaurant before enlisting in the Army at age 19. While at Ft. Bragg he proposed to Dorothy, who by then was living in a Raleigh apartment and working for Southern Bell. In December 1966, they were married in Monk Chapel on the MHC campus.
Military service took Joe to Europe for 21 months, and Dorothy went with him. They returned to Raleigh  briefly in 1968, and then Joe shipped out for Vietnam two weeks before Dorothy gave birth to their son, Joey. A daughter, Kim, followed in 1973 as Joe left the Army to begin a 13 1/2-year career with Storr  Office Supply in Raleigh. There he served as sales manager and attended two business colleges, King's and  Hardbarger, later opening his own business in Garner. He was general manager for chain restaurants in several cities and, after retiring from K & W Cafeteria, Joe worked part-time for several grocery store chains.
Dorothy went to work with Nationwide Insurance in Raleigh. She "retired early" after 22 years in 2001  to follow Joe to Virginia Beach, Va., and then back to North Carolina, settling in their current home in Elon, where she took a job with LabCorp as a client service relation representative.
Joe and Dorothy have three grandchildren, all living within an hour of their home, and they are planning a  simple but heartfelt celebration in December when their 48th wedding anniversary arrives.
They're also expanding their engagement with orphanage brothers and sisters. Joe agreed this summer to  serve as president of the MO/MHC Alumni Association, taking over from longtime leader Billy Griffin. This extended family—including the house parents who lived with them on campus—made lasting impressions on the Pearces' lives.
"I learned my work ethic and my morals from living there," Joe says. "And I give thanks that my aunt  was connected to the Methodist church in New Bern and helped me get to Raleigh," Dorothy says. "I was lucky. It was the best thing that ever happened to me."—Peter MacBeth