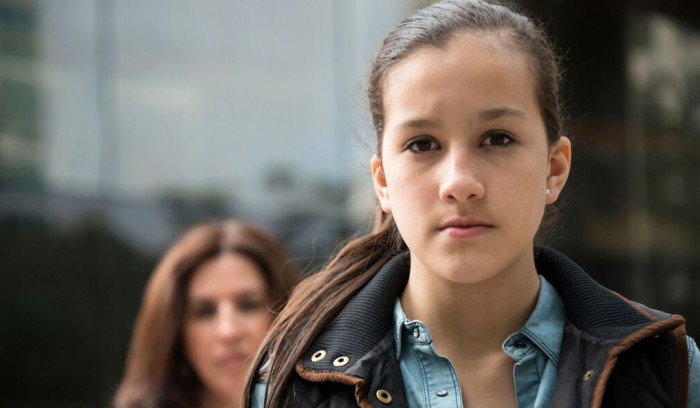 Baby Steps Forward | Summer 2015 Spotlight | At the lowest, most miserable point of her childhood, Lilly was being sexually abused by a male relative. She wasn't going to school regularly, and she lived in a squalid home with her mother and various boyfriends, sometimes sleeping in the same bed with them. She was beaten in the head repeatedly by an older sibling. She was dressed inappropriately in high heels and makeup. It was hellish. But it hadn't always been that way. Lilly could remember a time when life was better—vaguely, she could recall a time when home was safe and her father was still alive. He'd died when she was 6, and by the time she was 10, she was in and out of foster homes. At 12, she was in foster care for good, holding onto hopes for a "normal" life.
There'd be a time, she thought, when she'd have her own room, where she'd choose the color for her walls and the sheets on her bed. A couple of counties away, Carla and Jeff were thinking about ways they could help a child in need. They'd been married five years but had no children. Carla is an elementary teacher with a strong maternal instinct and a growing frustration that she couldn't help children who needed more than tutoring or hugs—children who needed safe homes and loving parents. As she talked about it with Jeff, the idea of adoption took shape and grew: "Here we are, a stable, loving couple, and I thought, why not us?"
In November 2012, Carla and Jeff became licensed foster parents through Methodist Home for Children and they dreamed of adopting a child between the ages of 5 and 10. Then came 12-year-old Lilly in June 2013. Lilly arrived as a respite placement on a short break from another MHC home, and Carla and Jeff thought she'd stay for a week and then go back. But when they met her, they fell in love. They saw in her a sweetness that drew them close. Within a few days, Lilly says, she knew she wanted to stay. Carla and Jeff felt the same and they promised, when it was time for her to leave, that they'd ask to get her back in a long-term foster placement. They knew they couldn't assure Lilly it would all work out, but Carla sent her off with this reassurance: "If God wants you to come back, you will be back. And if not, He'll have something good for you."
Lilly returned to them two months later, on Aug. 12, 2013, and her birth mother relinquished parental rights so that Carla and Jeff could adopt. Lilly became part of their family on Oct. 8, 2014. But even with an ideal placement, adoption is not a happily-ever after ending for a victim of child abuse and neglect. Lilly works with a therapist who specializes in childhood trauma and sexual abuse, and she made the decision to cut ties with her biological mother. It was a tough choice, but in releasing that relationship, Lilly was able to share details from her life that Jeff and Carla had not known. "It's hard for us, even today," Carla says. "We love her so much that her pain became our pain. It was shocking." The family moves forward in "baby steps," encouraging Lilly as she makes up for those childhood years lost to abuse, Carla says.
She is being evaluated for possible neurological damage from the beatings to her head. Although she was diagnosed as developmentally delayed in 3rd grade and could barely read at the age of 12, she's making progress in school with the help of a tutor. As she wrapped up 7th grade, her reading had improved to a 6th-grade level and math was at a 4th-grade level. She loves to draw and she takes karate lessons. She sleeps on a Hello Kitty pillow with matching pink sheets and blanket. She has a white princess bedroom set with a nightstand for her Bible. "She is full of life and has potential," Carla says. "She is capable of more than she's been given credit for."
The family attends church on Sundays and shares a devotional reading every morning at breakfast. Carla finds Bible passages to inspire Lilly when she struggles. One of their favorites is from 2 Kings 20:5: "I have heard your prayer and seen your tears; I will heal you." Another is Proverbs 3:5, a verse that girded them through the process of fostering and adopting: "Trust in the Lord with all your heart and lean not on your own understanding." When Carla and Jeff set out to adopt, they had their own ideas about the child who'd one day be theirs—and it wasn't a teenage girl with a traumatic abuse history. But God had another plan, they say, and as they watch their "angel" grow and flourish, they can't imagine life without her. "I know we're making a difference, through the grace of God," Jeff says. "She's very happy, like a completely different child. She has really blossomed."