Vice President of Operations  |  kperry@mhfc.org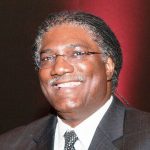 Ken Perry has been part of the Methodist Home for Children family since 1982. Having held several positions with the agency, he has extensive experience in program development, consultation and training, and evaluation and quality improvement. As vice president of operations, Perry has direct oversight of all day-to-day operational functions and assists in development and implementation of strategic plans to grow and diversify revenue for all MHC programs. In addition, Perry oversees the Hackley Education Learning Program (HELP) that offers higher education scholarships and assistance for former youth transitioning into adulthood. His expertise has made him an invaluable resource to programs across the state and country. Perry is an active member of statewide and community organizations that provide advocacy to children, youth and families, including Benchmarks, Wake County Human Services' Fatherhood Initiative Task Force, Wake Community Collaborative, Teaching Family Association, Saint Augustine's College Gateway Program, Urban Connection and A Legacy of Tradition.
Perry is a native of Virginia. He earned a Bachelor of Arts in sociology and criminal justice from North Carolina State University.